On the evening of Friday November 15 2019, the National Transport Research Awards and ARRB Gala Dinner took place at a beautifully presented space at Cargo Hall in Melbourne.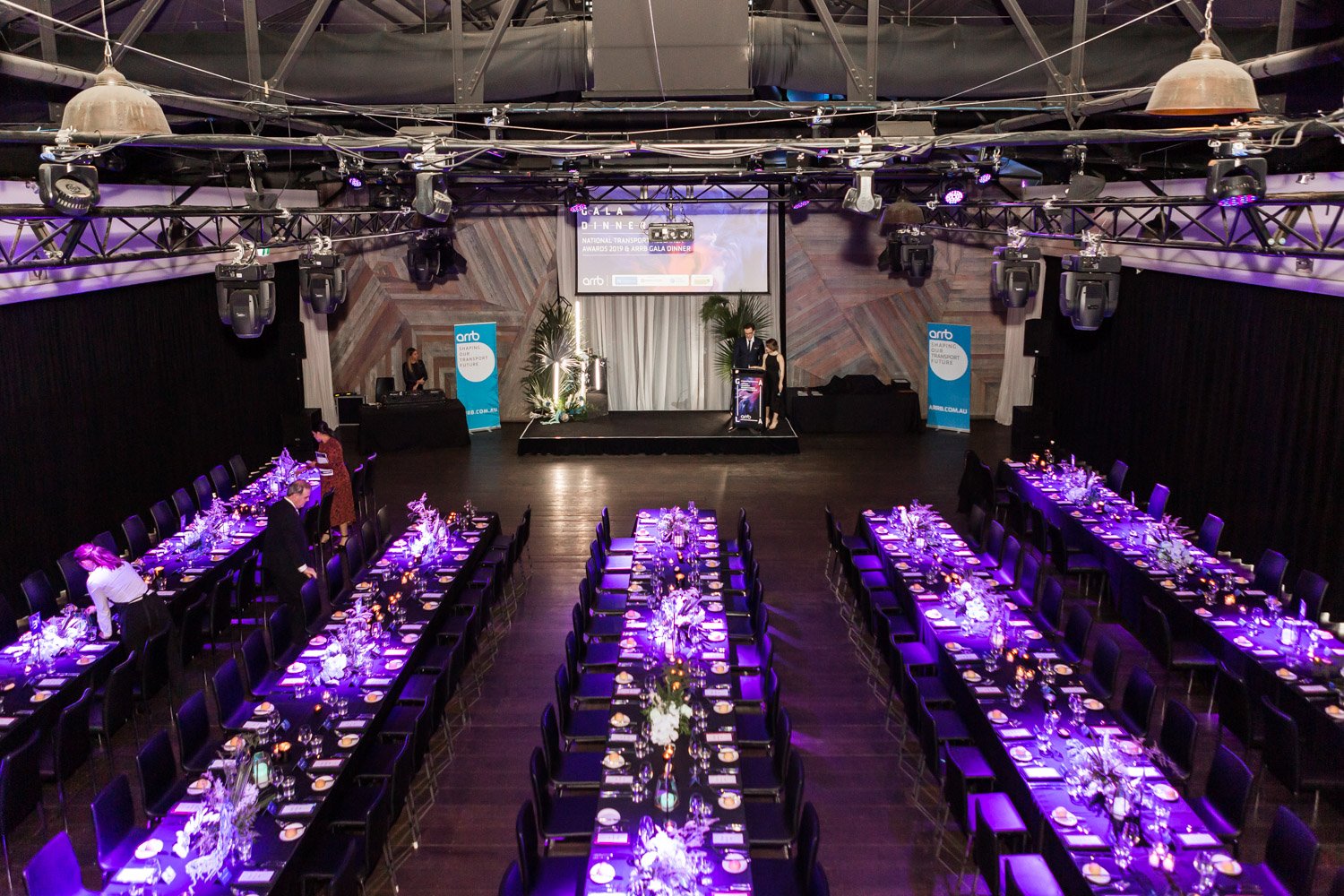 It was great to see almost 200 guests from industry, academia, media and VIP guests - all eager to find out who would be the winners of the NTR Awards 2019.
Our captivating MCs for the evening were Brittany Croft, Senior Professional Engineer, in Data Collection & Analysis, at ARRB – your National Transport Research Organisation and Luke Warren, State Technical Leader for Victoria and Principal Professional in the Data Collection & Analysis group at ARRB.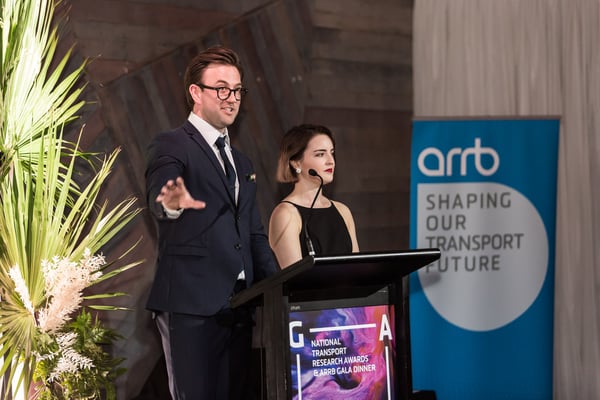 The evening's formalities began with an official welcome by ARRB CEO, Michael Caltabiano.
Our guest speaker for the evening was the inspirational Dr Elizabeth Finkel AM, co-founder and Editor-at-large of Cosmos Magazine.
Her fascinating talk, From Roads Research to General Relativity, took guests on a tour of the fantastic revelations that have emerged since we detected gravitational waves four years ago and how Einstein's theory of General Relativity continues to pass every test with flying colours.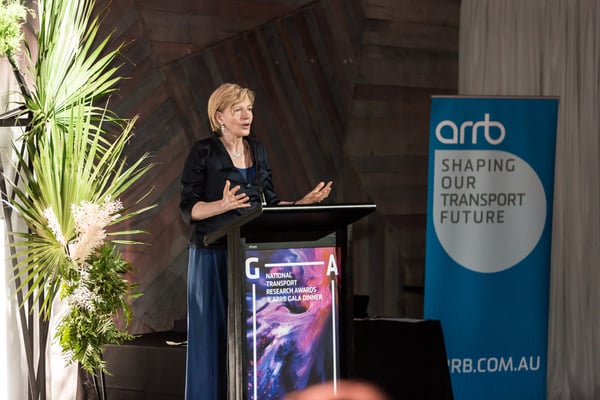 The organisers would like to thank the sponsors who have helped make the evening a reality:
And thank you to our media partner, Roads and Infrastructure Australia.
Thank you to our judges who had the hardest task of all:
Julia Page, Managing director and CEO of Victorian Endowment for Science, Knowledge and Innovation (veski)
Dr Mary Lydon, immediate past Director of the Centre for Automotive Safety Research and former general manager of Research at ARRB
Dr Gary Dolman, Head of Bureau, Bureau of Infrastructure, Transport and Regional Economics, Department of Infrastructure, Transport, Cities and Regional Development
And our Awards Convenor Dr Mike Shackleton, Chief Research Officer at ARRB.
Congratulations to our wonderful winners, the industry's best and brightest stars in our transport universe.
And the winners are:
Research Rising Star Award
Sponsored by George Rechnitzer and Associates (GRA)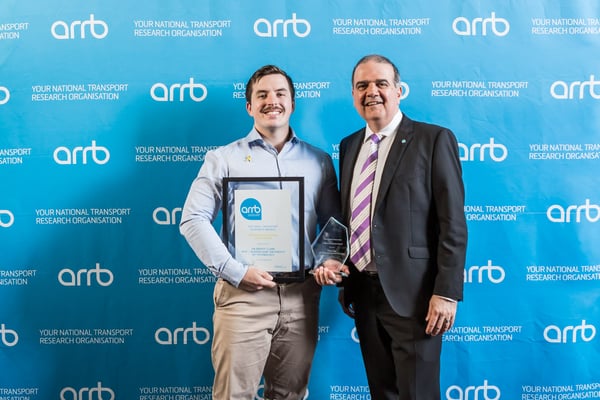 This award is for researchers under 35 years of age, who have made significant progress in solving a transportation-related problem in the past year.
Congratulations to Dr Brody Clark - WSP / Queensland University of Technology.


Research Impact Award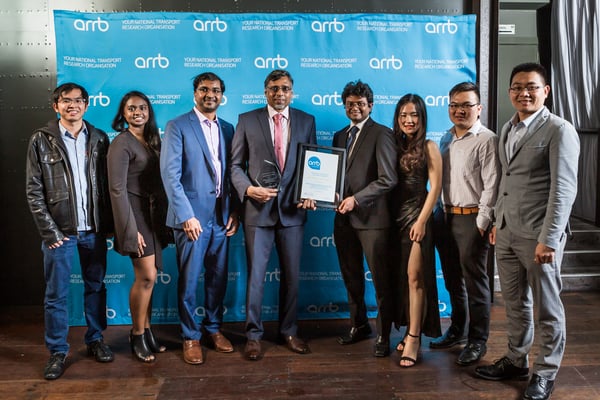 Awarded to an individual or research team, whose research, development and implementation efforts have made a significant improvement to operational quality or cost and has therefore had a considerable impact within the community.
Congratulations to Pipe Fracture Prediction – Professor Jayantha Kodikara/Monash University.


Road Construction Innovation Award
Sponsored by Roads Australia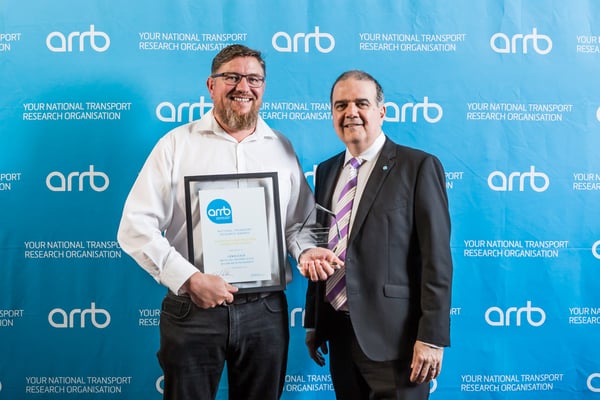 This award recognises a member of the construction sector - both companies and industry bodies - for outstanding research projects or products over the last twelve months.
Congratulations to Recycled Crushed Glass in Concrete Pavements: A New Material for Infrastructure Projects – Lendlease.
Award accepted by Jamie Egan on behalf of Lendlease.


Research into Reality Award
Sponsored by ARC Nanocomm Hub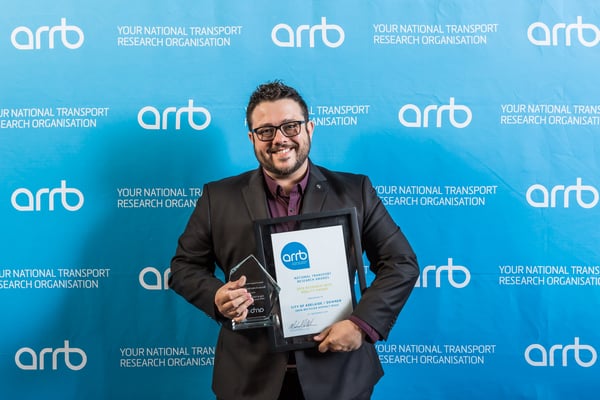 This award is presented to a government body (local, state, federal) for the best translation of research into practice that demonstrates innovative outcomes and community benefit.
Congratulations to 100% Recycled Asphalt – City of Adelaide / Downer.
Award accepted by Jean-Pierre Koekemoer on behalf of the City of Adelaide.


Lifetime Research Award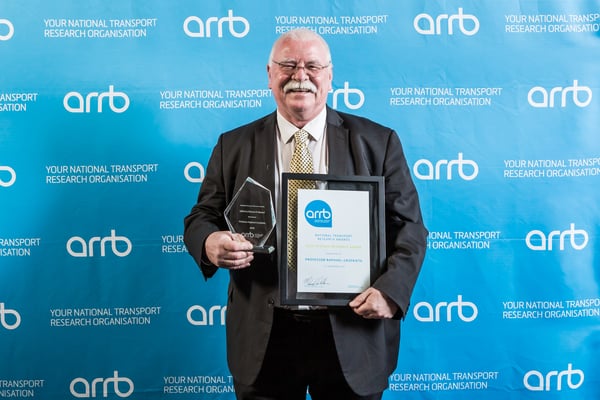 This award is presented in recognition of an individual's outstanding leadership and contribution to the road and transport sector for more than 25 years, based on an enduring track record of research, development and implementation activities.
Congratulations to Professor Emeritus Raphael Grzebieta.


Re:act Award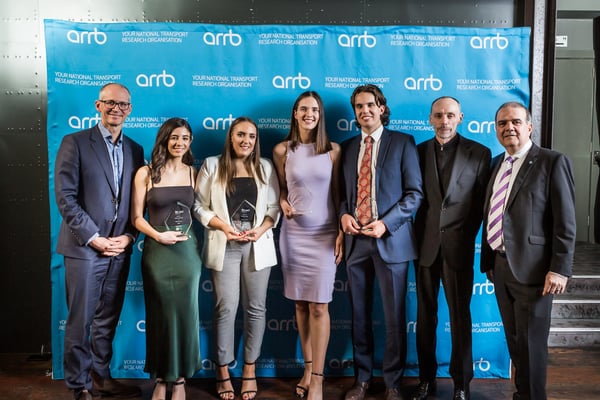 This initiative commenced in 2016 as a collaborative effort between Hard Edge and Swinburne University, with the support of NRSPP, TAC, RACV and Transurban.
Congratulations to Caitlin Gmehling, Felicity Lemke, Max Bufardeci and Riley van Ingen for their winning campaign, 100% Human.


This year, under Professor Geoff Rose's Directorship, Monash-ITS turned 50. The staff and leadership of ARRB felt that this milestone should be formally recognised by ARRB. Dr Mike Shackleton, Chief Research Officer at ARRB, presented a commemorative plaque to Professor Geoff Rose to celebrate their 50 years.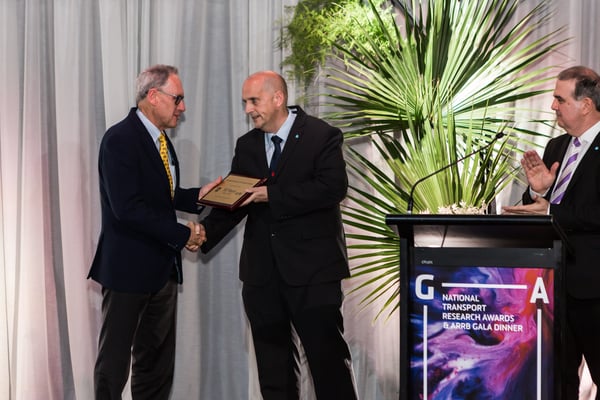 Congratulations again to all our deserving winners, after the formalities concluded our guests danced the night away to some classic tunes.
Click the button below to view the full gallery from the evening.