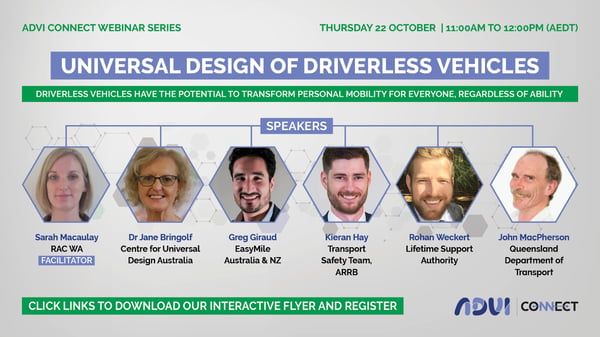 Click here to download the flyer >
22 October 2020, 11AM AEDT
Join us on Thursday 22 October for a FREE ADVI Connect Webinar.

Driverless vehicles have the potential to transform personal mobility and are expected to provide an accessible and independent transport solution for everyone, regardless of ability or disability. To ensure this expectation is realised, it is important that the deficiencies in the current transport system that marginalises or precludes sectors of the population from accessing personal mobility are understood, so that vehicles and technology solutions are designed and manufactured to suit their daily lives. Hear from our expert panel who will discuss the importance of universal design and co-design of automated vehicles to maximise the anticipated benefits delivered to society.
Click here to download the flyer >
Facilitator
Sarah Macaulay - Senior Manager, Public Policy, Advocacy and Members, Royal Automotive Club of WA (RAC)
Panellists
Dr Jane Bringolf - Chair, Centre for Universal Design Australia
Greg Giraud - Managing Director - Australia & NZ, EasyMile
Kieran Hay - Senior Professional, Transport Safety Team
John MacPherson - Manager (Accessibility), Accessible Transport Network, Queensland Department of Transport and Main Roads (TMR)
Rohan Weckert - Senior Scheme Legal Adviser, Lifetime Support Authority
Join us for this FREE ADVI Connect
webinar on October 22, 2020 at 11am AEDT.
Participants please note – this session will commence during Australian Eastern Daylight Time (AEDT). There may be time zone differences that apply. It is recommended that you connect to the webinar 15 minutes prior to allow sufficient time for potential connection delays. It is also important that you check the system requirements for the webinar in advance of the session.
After registering, you will receive a confirmation email containing information about joining the webinar.