Dr Brett Eastwood - Data science and data products

Dr Brett Eastwood
Data Science and Data Products
Brett Eastwood re-joined the Australian Road Research Board (ARRB) as the Principle Technology Leader for the Strategic Enablers Group in 2018. He has brought with him extensive experience in technology development management, solutions architecture, machine vision research, strategic planning and contract management.
Having spent many years providing solutions architecture and software development services and working on a wide variety of hardware and software projects, Brett has extensive experience with managing and developing technology solutions for the Australian transport industry.

Brett returns to ARRB having previously being employed as the General Manager for the Technology Division, designing and managing the building of the very best survey equipment and software for the local and international markets.

With a PhD in the fields of machine learning and machine vision, and with more than 10 local and international publications and a number of international patents, Brett has demonstrated an expertise with real-world research.

Brett continues to be involved in technology start-ups and brings to ARRB a dynamic and strong commercial focus to the development programs as well as extensive expertise in project management and web application development.
Dr Clarissa Han - National Leader Sustainability & Resilience

Dr Clarissa Han

National Leader Sustainability & Resilience

Dr Clarissa Han leads the Sustainability and Resilience Strategic Working Group (SWG) in delivering high profile research on the use of recycled or alternative materials for sustainable road and transport infrastructure, assessment and development of resilient infrastructure, climate change adaptation, environmental impact assessment and advisory, life cycle assessment and economic evaluations of transport options, and sustainable future mobility solutions.
Clarissa also advises our Future Transport Systems Division in her capacity as Principal Technology Leader with 23+ years of engineering and research experience in traffic studies and analysis, congestion cost estimation, transport management and operations, and emerging ITS technologies and tools.
After joining ARRB in 2007, Clarissa has been the major contributor to various national guidelines, standards and specifications in network operations, traffic and transport management and ITS evaluation and benchmarking. Clarissa is leading the Australian national forum on 'Excessive congestion cost and travel time reliability cost'. She is also researching and delivering the Movement and Place Framework and impact assessment of emerging transport modes on community, society and environment.
Clarissa has been the TRB peer reviewer of multiple mobility committees over the past decade. She is the current Australian member of the PIARC Mobility Strategic Theme TC2.4 Road Network Operations/ITS (2020-24) and the Working Group Leader of TC2.4.2. Clarissa is also the board member of the International Road Federation (IRF). She is a regular speaker on various international conferences or forums such as the TRB Annual Meeting, the ITS World Congress and PIARC conferences etc.
Dr Charles Karl - Network Operations | ADVI

Dr Charles Karl
Network Operations | ADVI
Dr Charles Karl leads the Network Operations, Freight and Heavy Vehicles teams with the Australian Road Research Board (ARRB). In addition, Charles is the co-technical lead for the Australian Driverless Vehicles Initiative (ADVI). Some current areas of research and development which Charles is directly involved with include: congestion, ITS assets, safety, road user charging, compliance and enforcement, urban freight, freight data, autonomous vehicles, field testing, trials and pilots.

Charles's doctoral thesis in 2003 investigated the response of drivers to a dynamic traveller information system which he had co-developed through a business he founded earlier. In 1999, Charles co-founded Custom Traffic Pty Ltd, which developed a traveller information system based around an aggregation engine that fuses traffic data from traffic control systems such as SCATS, into speeds and travel times for each link and movement on the road network. This information is supplied to travel information service providers such as Intelematics Australia and utilised in products such as the SUNA traffic information and on Google maps.
on
David McTiernan - National Leader Transport Safety

David is a civil engineer with over 27 years experience working for local government and ARRB in road design/traffic/road safety. He holds a Bachelors Degree in Civil Engineering (Hons), Grad. Dip Technology Management, and Grad. Dip. In Transport and Traffic. He led ARRB's NSW Transport Safety Team for over 12 years delivering projects for state and local road agencies, as well as private motorway operators and Australian and Overseas clients operating in the mining sector. As the National Leader Transport Safety, David is focused on delivering knowledge to policy makers about transport safety issues and ensuring that practitioners have the necessary knowledge, skills and expertise to understand how safer road infrastructure can contribute to the national vision for zero death a serious injury on our roads.
Geoff Jameson - Pavement Design and Materials | Specification Development

Geoff Jameson

Pavement Design and Materials | Specification Development
Geoff Jameson is a graduate from the University of Melbourne with a Bachelor of Science (Hons) degree. Prior to joining the Australian Road Research Board (ARRB), he worked for VicRoads on various aspects of road construction materials, including seven years as the manager of the Pavement Design Section, which was responsible for standards of pavement design and rehabilitation of all freeways, highways, tourist and main roads in the State of Victoria. In 1992 – 1993 on secondment from VicRoads, Geoff was involved with the development of Pavement Management Systems in Hong Kong and the Philippines.
In 1994 he joined the Pavement Technology area at ARRB. He has worked on a variety of projects addressing issues associated with pavement design and performance, specifications and materials characterisation, including Accelerated Loading Facility (ALF) trials of unbound granular materials, asphalt, cemented materials, recycled materials and rigid pavements.
In 2011 he was appointed as the inaugural Director of the Western Australian Pavement Asset Research Centre.
He is a member of the Austroads Pavements Structures Working Group and Austroads Foamed Stabilisation Working Group
Matthew Bereni - National Business Leader

Matthew Bereni

National Business Leader
Matthew is a recognised transport industry leader with more than 15 years of engineering and leadership experience in both the private and public sector through Civil Engineering, Economics, Regulatory and Policy Reform roles. Matthew has a solid track record of hands-on experience in strategic planning, business development, project and product management while maintaining strong technical engineering skill and aptitude.
Dr Michael Moffatt - Pavements and Surfaces

Dr Michael Moffatt
National Leader Infrastructure Management
Dr Michael Moffatt joined ARRB in 1991 after graduating from the University of Melbourne with a Bachelor of (Civil) Engineering with Honours Degree. He also holds both a Master of Technology (Pavements) Degree and a PhD.

He has worked in a variety of areas dealing with both the design and analysis of pavement structures, including the effects of water movements through pavements, the mechanistic design of new and rehabilitated pavements, and the characterisation of pavement materials, including the conduct of various trials using the Accelerated Loading Facility (ALF).

As well as his role as a Principal Research Engineer at the Australian Road Research Board (ARRB), Michael is also the Manager of the Accelerated Loading Facility, a full scale accelerated pavement testing facility used for national strategic research projects. He has additional experience in road and asset management, asset system design and implementation, and has also managed large pavement data collection exercises in Australia and overseas. Michael has written and contributed to many papers, research reports and good practice guidelines in the areas of pavement technology and asset management
Nigel Powers - Structure, Construction and Asset Management

Nigel Powers
Structure, Construction and Asset Management
Nigel commenced with ARRB in as National Infrastructure Strategist and Chief Technology Leader – Asset Management in 2019. He has over 18 years experience in the Victorian public service including VicRoads/DoT and Major Road Projects Victoria (MRPV). During this time Nigel reached Director level and has worked across numerous aspects of road assets including the planning, design, construction, maintenance and management of bridges, structures, pavements and related road assets.
Nigel has practical experience in program delivery, project management and asset management of road assets. His technical focus is bridges and other road structures with experience throughout the lifecycle of a structure and is acknowledged nationally and internationally for this work. His experience includes design, inspection, assessment, asset management, network management, construction, maintenance and operation. He was responsible for the maintenance, management and operation of the West Gate Bridge for 5 years, bridge asset network development and delivery across Victoria and has developed and delivered numerous technical documents, training and standards including AS5100 – Bridge Design Code.
Nigel is a leader within the bridge and structures industry. He led securing the hosting rights, and then chaired, the Austroads Bridge Conference 2017 and the 9th International Conference on Bridge Maintenance, Safety and Management (IABMAS 2018). He has been a nominated representative with Austroads and Standards Australia and is currently the President of IABMAS Australia.
Paul Hillier - Road Safety and Traffic

Paul Hillier
Road safety and traffic expert
Paul joined Australian Road Research Board (ARRB) in July 2005 under a formal collaboration agreement with TRL UK. He assumed the position of Regional Manager – NSW and ACT until November 2007, before taking on the role of National Discipline Leader in Road Safety and Traffic (RS&T), a position he held for 12 months. As part of an internal restructure in November 2008, Paul was assigned the role of National Technical Leader – Incident Investigations and Strategic Reviews, which sees him sitting on the company's technical advisory/steering group.

Paul is also Principal Consultant within the Safe Systems branch of the organisation's Research and Consultancy Division. His technical expertise is in road safety engineering and associated site and network level risk and safety assessments, risk/hazard mitigation, highways liability (including expert witness reporting and testimony in court), and network management (strategy, policy, practice and research).Paul is an experienced road safety auditor and reviewer for both public and private sector clients.

He is an accomplished team leader and project manager and is also one of ARRB's highest ranked presenters/speakers, trainers and facilitators. He has experience of working in a number of countries in the developed and developing-world.
Richard Wix - Infrastructure Measurement | Data Collection & Analysis

Richard Wix

Infrastructure Measurement | Data Collection & Analysis

Richard joined ARRB in 1990 and has built a reputation as a leader in pavement condition monitoring having had almost 30 years' experience helping road agencies in Australia and overseas manage their pavements and roadside assets. He holds a Bachelor Degree in Chemical Engineering from Monash University and he and his team are focussed on developing strong collaborative working relationships with road agencies and private industry by delivering high quality data using new and innovative technologies.
Dr Robert Urquhart - Bituminous Materials and Organic Chemistry

Dr Robert Urquhart
Bituminous Materials and Organic Chemistry
After completing his PhD degree in surfactant chemistry at the University of Melbourne, Dr Urquhart was awarded a CSIRO Postdoctoral Research Fellowship which enabled him to work at the University of Minnesota in the USA for one year and use newly developed microscopic techniques to characterise the absorption of gold and proteins on surfaces. Robert then spent 5 years at CSIRO – Division of Chemicals and Polymers where he conducted research into the optical, infra-red and chemical properties of semiconductor nanoparticles in thin surfactant (detergent) films. His work at CSIRO included short term projects at the IBM Aldamen Research Centre in the USA and Shizuoka University in Japan.
From 1997 to 2004 Robert worked as a Bituminous Products Technologist at BP Bitumen where he was responsible for the planning and co-ordination of laboratory R&D work, plant production trials and plant production support associated with BP's paving grade bitumen, polymer modified bitumen and bitumen emulsion products. In 2004 he was promoted to the position of Bitumen Technical Manager. This role included management of the national BP Bitumen Technical Team as well as responsibility for all BP Bitumen (Australia) R&D work, production support, technical marketing support, NATA accredited quality control testing and quality systems.
From 2010 to 2016 Robert worked as Principal Research Scientist at the Australian Road Research Board (ARRB). In 2016 he was appointed to the role of National Technical Leader – Surfacings and in 2018 he was appointed to the role of Principal Technology Leader. In these roles he has been involved in contract and research projects associated with bituminous binder properties and the performance of binders in sprayed seals and asphalt. Projects have included investigations into bitumen alternative binders, studies of how polymer modified binder properties can be used to predict road performance, the effects of cutter levels on aggregate wetting in sprayed seals, improvements to the Austroads sprayed seal design method for low volume roads, and investigations into how cutter oil properties effect sprayed seal performance.
Dr Tim Martin - Performance Modelling | Asset Management

Dr Tim Martin
Performance Modelling | Asset Management
Dr Tim Martin has graduate and post graduate qualifications in Civil Engineering and a PhD in predicting network-level pavement deterioration from Monash University. Before joining Australian Road Research Board (ARRB) in 1990, Tim spent some 17 years in the investigation, planning, design, contract management and economic evaluation of major Australian and international engineering projects that included bridges, dams, river diversions and open cut mining works.

Tim's research at ARRB has involved leading a road track cost attribution study that underpins heavy vehicle charging. Tim designed and implemented a major observational study using long-term pavement performance (LTPP) and long-term pavement maintenance (LTPPM) sites, experimental studies with accelerated load testing, resulting in the development of pavement deterioration and works effects models for arterial roads. These models are in-pavement life-cycle costing analyses and the estimation of marginal road wear costs. This research extended to the development of deterioration models for unsealed and sealed local roads as part of a national study across all Australian states and the assessment of levels of service for heavy vehicles.
Tyrone Toole - Asset Management and Institution Development

Tyrone Toole
Asset Management and Institution Development
Tyrone has 40 years experience in a wide range of highway engineering and management projects, and in institutional development and training in over 20 countries. He specialises in the management and delivery of multi-disciplinary projects, and has specific experience in institutional development and reform, and in research and the provision of advice in the management and design of low and high-volume roads in developed, developing and emerging countries.
Tyrone joined ARRB in 2001 following over 20 years with TRL's Overseas Unit and continues to contribute as a leading international expert on the development of road asset management guidelines and implementing road planning and management systems and procedures in numerous countries. He is ARRB's Chief Adviser and National Discipline Leader in asset management and leads contribution to training and dissemination in road management and decision support tools worldwide, and in road asset management and performance for Australian road authorities and internationally. He is the principal author of Austroads overview document on asset management, and pavement performance modelling. He has also authored guides on pavement design and materials, low volume roads, investment planning and management for national and international organisations. His technical reports include the appropriate use of roadmaking materials, reseal programming, life cycle costing and investment analysis, Safe Systems and asset management, and road user costs.
Renata Berglas - Mobility Futures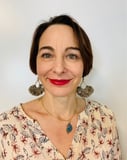 Renata is a senior executive and policy professional with extensive experience in industry development, with a particular focus on hydrogen and zero emission vehicles, strategy, policy, and planning.
She has qualifications in economics, finance, and company director governance.
Renata is currently the Independent Transport Member of the Hon Mick De Brenni's Minister for Hydrogen and Public Works Hydrogen Taskforce, and chair of H2Q Queensland Hydrogen Industry Cluster.
Renata started with ARRB as Queensland State Business Leader, before taking on the role of leading ARRB's Mobility Futures team.
Prior to commencing work at ARRB, Renata was the CEO of Queensland Transport and Logistics Council where she worked with freight industry participants across all sectors - road, rail, sea and air - and government to develop projects that improved freight network utilisation and efficiency.
Renata also has experience in agricultural industry development, primarily beef industry development and land use planning, working both at AgForce Queensland and in the Department of Agriculture and Fisheries.