Sustainability and better recycling outcomes are now informing Australia's ongoing "big build" of infrastructure.
Turning waste streams into responsible road construction materials is something the Australian Road Research Board (ARRB) has led research and development in for more than 30 years.
ARRB has a strong, trusted reputation in the sustainability and resilience space when it comes to road construction. From our work with crumb rubber bitumen to researching the use of plastics and organics in road building, ARRB has been at the forefront of finding solutions to using more recyclables and less virgin materials for superior, better performing roads.
Recently, we have been working with the City of Canterbury Bankstown in NSW to put more recycled crushed glass (RCG) into road infrastructure.
The objective of this project is to maximise the use of RCG – the glass you put in your recycling bin - in granular subbase materials for roads. The project has an additional sustainability benefit. It uses another recycled material, crushed concrete, as the preferred granular subbase material. Crushed concrete (CC) is the control material to measure our progress against.
The performance of blends of RCG and crushed concrete is being evaluated to ensure the optimal blend is fit for purpose. Testing in ARRB's state-of-the-art labs facility in Victoria has found that combining glass with crushed concrete improves performance, compared with crushed concrete alone.
"Blending with RCG was found to improve the grading and lead to improved compaction capabilities," says ARRB's Principal Professional, Sustainability and Material Performance, Dr James Grenfell.
"This has meant that the incorporation of high levels of RCG can improve the performance of CC in subbase applications."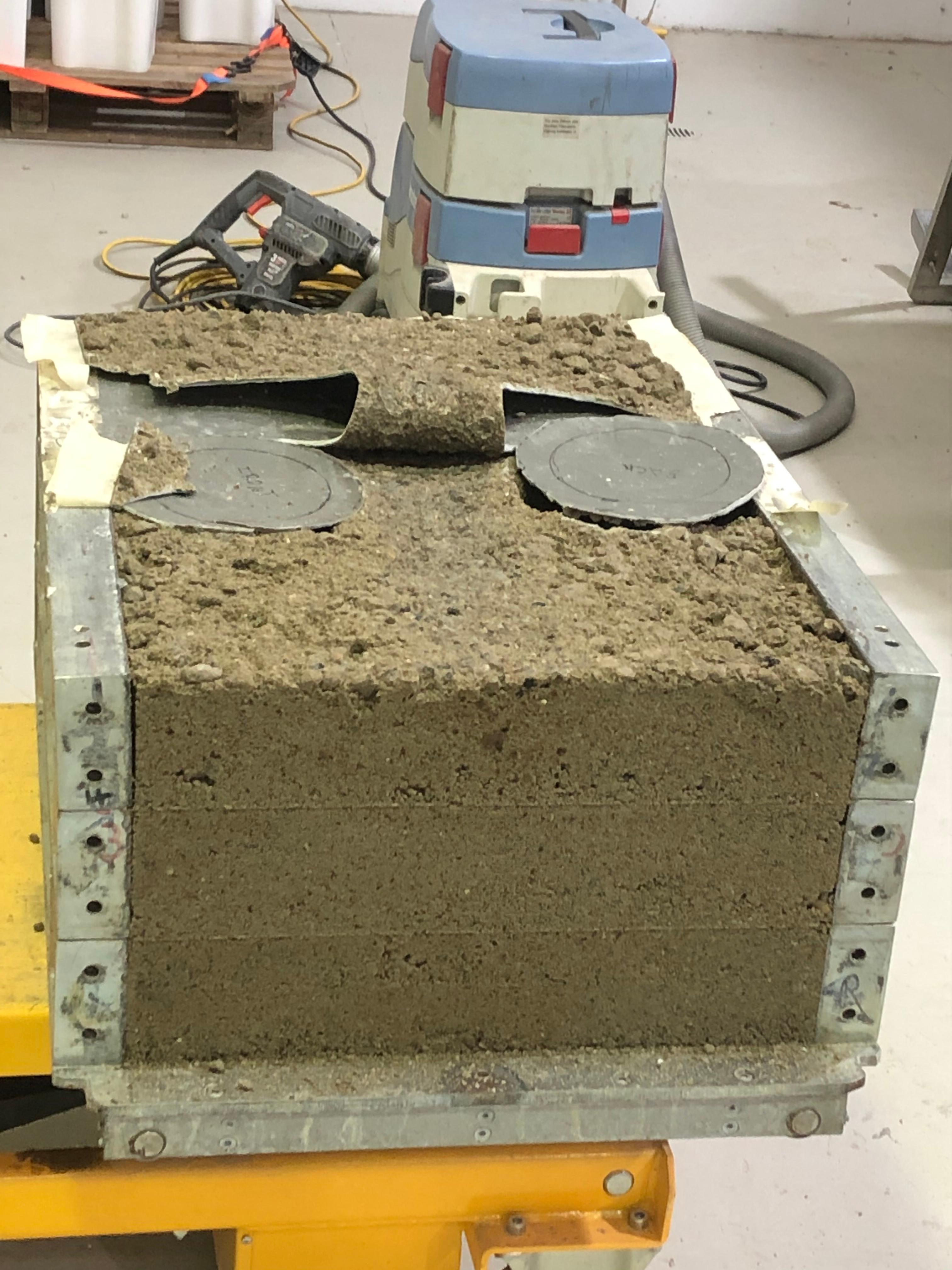 Blending crushed concrete and recycled crushed glass was found to improve grading and compaction capabilities (above)
The 12-month ARRB/City of Canterbury Bankstown project is a multi-stage effort, which includes reviewing current standards worldwide, the lab testing, finding the optimum blend and then establishing a trial site on a road in the Canterbury-Bankstown area, and assessing the performance of the road.
ARRB is currently involved in many sustainability-focused road projects including:
developing national and state guidelines and standards for the use of recycled materials in road pavements and transport infrastructure;

developing new and innovative pavement design mixes incorporating recycled or marginal materials in a safe and appropriate manner;

conducting specialised trials, testing and performance monitoring in collaboration with key industry sectors, road agencies, local government, environmental and sustainability agencies and producers of recycled and reclaimed products;

assessing engineering performance and technical constraints of recycled and alternative materials (e.g. crumb rubber, plastics, glass, bottom ash, organics, reclaimed asphalt pavement, crushed construction and demolition waste and other emerging waste streams) in different applications and climatic areas.
As all levels of Government, industry and the community demand the increased use of recycled materials in roads, less waste and a sustainable circular economy, ARRB can help.
Talk to our Sustainability and Material Performance team for assistance in recycled and alternative materials use, life cycle analysis and economic evaluation, and environmental management of your infrastructure projects at sustainability@arrb.com.au or visit our website at https://www.arrb.com.au/sustainability
* This article was originally published in Waste Management Review magazine's July 2021 edition
MORE: Recycled crushed glass project in Victoria
MORE: ARRB helps in Victoria's recycled material push