ARRB took home a prestigious award at the 30th Annual Road Profile User's Group (RPUG) Conference which was held in Rapid City, South Dakota last month.
Richard Wix, ARRB 's Principal Professional Leader, Strategic Enablers Group, who has been a member of RPUG for the past eight years and first attended the conference in 1995, was presented with the Technical Award during the conference dinner in recognition of his technical contributions, outstanding presentations and for bringing an international perspective to RPUG.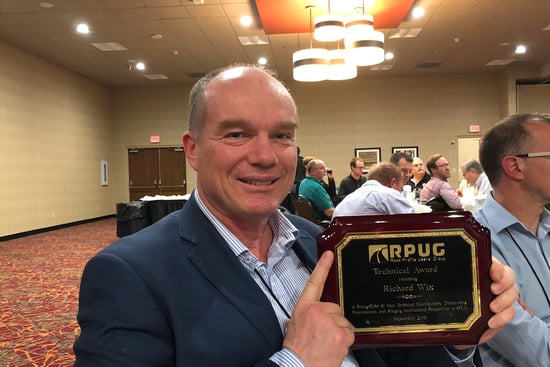 Richard accepting his award at the conference dinner
'Receiving this award meant a lot to me. Being part of the RPUG community has given me the opportunity to learn, develop professionally and make a lot of new friends for which I am very grateful. It's an honour to be recognised by my peers.' Richard said.
This was the 30th anniversary of the RPUG Conference and was held during the 18-21 September 2018 in South Dakota where the group was originally formed in 1989. Approximately 150 people were in attendance including Richard and Senior Professional, Asset Management, Bree Rebeiro.
Richard gave two presentations and had the honour of giving the keynote speech along with the RPUG chair, Brian Schleppi, which was based on this year's conference theme of "30 Years On The Road To Progressively Better Data".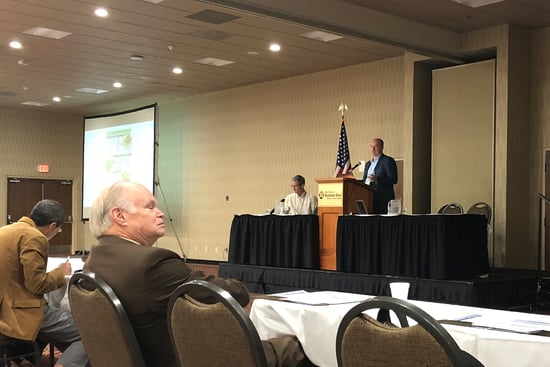 Richard giving his second speech entitled 'Is that what I ordered?'
Both Bree and Richard met with numerous practitioners, researchers and road agency staff and were able to share experiences measuring pavement performance characteristics in the US and Australia.
They intend on sharing their learnings with ARRB staff, particularly members of the data collection group, with the aim of seeing how they can complement ARRB's current services to Australian road agencies.
Bree and Richard also participated in three pooled fund meetings where they were able to get an appreciation for the current research being undertaken by US road agencies relating to key aspects of pavement data collection such as transverse profile, friction and crack measurement.


Delegates at the pavement surface distress pooled fund study.
More information about the RPUG can be found here: www.rpug.org