Does your Council fully understand the road safety risk on its roads?
ARRB's National Leader - Transport Safety, Mr David McTiernan, presented to NSW local government engineers at the IPWEA NSW State Conference how AusRAP can help them deliver safer road infrastructure.
The Star Rating of Australia's National and State Highway networks has been assessed by Automobile Clubs and Government road agencies and is referenced in the development of corridor plans and road infrastructure programs.
But 80% of the public roads in Australia are managed by Local Government, and only a very small proportion of local roads have been the subject of a Star Rating assessment.
ARRB has been Australia's iRAP Centre of Excellence for over 10 years and our iRAP accredited team has recently been working to raise awareness amongst local government practitioners of the benefit of understanding road safety risk of their networks.
This has included the delivery of AusRAP assessments on regional roads in over 40 local government areas and reaching out to local government engineers at Conferences like the 2021 IPWEA NSW State Conference.
Speaking during a road safety session at the IPWEA NSW Conference, Mr McTiernan outlined how understanding road safety risk on local roads using AusRAP can assist the delivery of priorities areas in the new (draft) National Road Safety Strategy 2021 – 2030.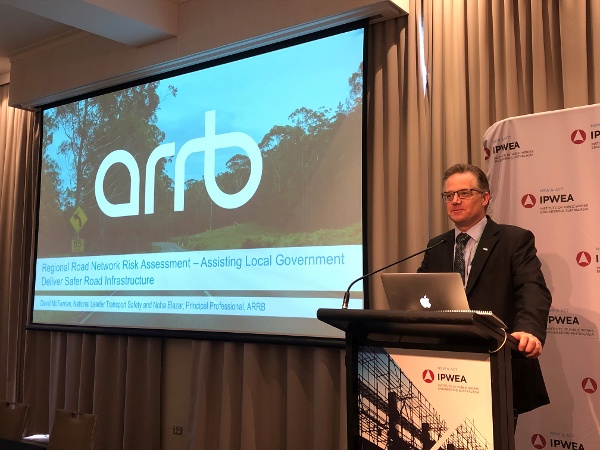 Referencing a recently completed pilot project involving over 677 km of mostly rural roads across three regional local councils, the information provided by a Star Rating assessment has been eagerly taken on by the Council road safety, traffic, and road asset engineers.
"With over 18,000 km of regional roads in NSW, and tens of thousands of kilometres more across the country, local councils face a significant challenge in firstly understanding what level of risk exists, and then how to maximise the opportunity to mitigate that risk to benefit their local communities," Mr McTiernan said.
With the new national road safety strategy, the Australian Government is leading the way by linking infrastructure funding to 'measurable improvements in safety'. The Star Rating of roads is a direct indicator of road safety and with the potential for assessing different investment programs, Star Ratings can provide Councils with an insight to the road safety benefits that can be achieved.
This was demonstrated to the Councils involved in the pilot project.
An important outcome of the pilot project was to upskill the Council practitioners in the AusRAP road risk assessment process. This was designed to allow the Council engineers to be self-sufficient in assessments and reporting of outcomes for their own uses. A series of online workshops about the AusRAP approach as well as training in the use of ViDA (iRAP's online platform) were held so Council staff could review the coding and analysis in more depth.
ARRB will continue to work with local government to provide the tools and the skills required to ensure they can deliver safer road infrastructure to their communities.
Want more information on how Star Ratings can help? Contact our team here