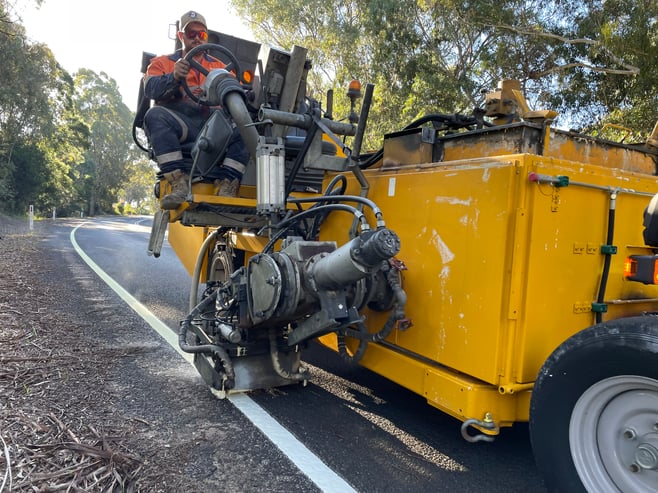 ARRB is currently working with the Victorian Department of Transport to develop a framework to trial glow in the dark line markings in regional Victoria.
The new type of photo-luminescent paint is being used to increase road safety by helping drivers see where the road is going beyond the reach of headlights or where headlights are pointing off the road due to tight curves.
ARRBs National Portfolio Leader for Safer Asset Performance, David Milling, was recently interviewed by ABC Regional Drive on DoT's project.
"ARRB sees that there is great potential for self-illuminating line marking to provide safety benefits on roads with sharp crests and tight curves of a complex alignment," Mr Milling said.
"This is because a car's headlights are unable to illuminate the line marking in front of the vehicle, whereas self-illuminating lines are not limited by the direction the headlights are pointing."
Where street lighting would be expensive or impractical to install, glow in the dark markings could be seen as a quick and cost-effective solution, whilst also being able to reduce light pollution in the sky.
ARRB is interested in undertaking trials to identify the performance of the paint in wet weather, as well as whether the lines are easily detectable by Automated Vehicles throughout the day and night.
"ARRB is eager to work with road agencies and manufacturers/suppliers to identify how the product performs over time, specifically how long the self-illumination is sustained at adequate levels throughout the night when installed, and after several months and years of installation," Mr Milling said.
ARRB is speaking with several State Road Authorities to explore if the technology can be used on a broader scale.
To find out more, contact David Milling via David.milling@arrb.com.au
To listen to the full interview on ABC Regional Drive, click here.